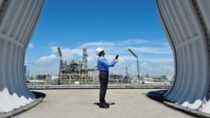 BASF strives to harness the power of digital technologies to improve the efficiency and effectiveness of production processes, which contributes to higher productivity and safety at plants. BASF has developed a range of digital solutions in smart manufacturing, such as predictive maintenance, augmented reality and person positioning systems.
Several BASF sites in Greater China participated in these initiatives in 2018. We are also actively developing specific digital applications for local conditions. 
Augmented reality technology
Combining centralized data with mobile devices to augment the physical world of production plants with the virtual world of data and information
Augmented reality equips production staff on daily routing and safety inspection trips with updated reference data and task information, which is readily accessible via industrial mobile devices such as smartphones and tablets. Onsite workers can quickly check the facilities according to instructions, get measurement details and even implement solutions with less effort and greater accuracy. They can generate paperless reports directly, with higher efficiency and less human error. The consolidated information is fed to analytical tools, which in turn show trends for timely detection in the field. In 2018, augmented reality was successfully launched at 18 BASF plants in Greater China.
Predictive maintenance
Forecasting maintenance needs of critical parts and units
Striking a more efficient balance between regular repair and production
With thousands of sensors generating live data on operating conditions, and using historical data as a reference, predictive maintenance provides methods for the detection and prediction of anomalies in critical production assets, such as compressors, turbines, pumps and heat exchangers, and process groups such as heavy-duty rotating equipment. The goal is to predict the optimal time for maintenance and avoid failures while reducing the need for unplanned repairs. In 2018, more than ten predictive maintenance projects were implemented at several BASF plants in Greater China. 
Person positioning system
Enhancing personnel safety management and evacuation during emergencies
Person positioning system helps prevent people from entering into restricted zones if they do not have relevant entry training or permits, or if they are not using personal protective equipment. This enhances work safety and efficiency during critical turnaround projects. It also provides real-time tracking during emergencies, helping to locate all personnel during evacuation.
BASF Greater China began development of the system in June 2017, and completed a number of pilot projects in 2018. The system has been applied at the BASF Shanghai Caojing site and the Rudong site in Jiangsu Province, where the application has been recommended by local authorities for several chemical industry parks in the province.
Predictive emission management system
Forecasting environment emission data using artificial neural networks
In Greater China, BASF has also developed a predictive emission management system. It uses artificial neural networks to process and forecast environment emission data. Once there is any abnormality, relevant personnel can make instant adjustments and controls. One site already started trials for off-gas and wastewater emissions prediction in 2018.