At the heart of the long-term transition toward net zero CO2 emissions by 2050 is the use of new technologies, which will replace fossil fuels such as natural gas with electricity from renewable sources. Electricity demand at the group's major sites, including the largest production site in Ludwigshafen will therefore increase sharply in the coming decade. From around 2035, it is expected to be more than three times the current electricity demand. From around 2035, the group's electricity demand is expected to be more than three times higher than it is today. 
A precondition for the transformation of chemical production is the reliable availability of large quantities of renewable electricity at competitive prices. At the moment, that is not the case in Germany. BASF therefore aims to participate in investments in renewable energy generation facilities to meet its own demand. Regulatory framework conditions are also essential for making this transformation economically feasible.
Green electricity and innovative production technologies could make the Ludwigshafen chemical site a lighthouse for climate protection in the chemical industry – a project idea that BASF is working on together with RWE.
The project envisions an additional offshore wind farm with an output of 2 gigawatts (GW) to provide the Ludwigshafen chemical site with green electricity and enable CO2-free production of hydrogen. The aim is to electrify the production processes for basic chemicals, which are currently based on fossil fuels.  
This will involve utilizing CO2-free technologies such as electrically heated steam cracker furnaces to produce petrochemicals. BASF is already working with partners on developing these technologies. To advance the joint project, the CEOs of BASF and RWE have signed a letter of intent covering a wide-ranging cooperation for the creation of additional capacities for renewable electricity and the use of innovative technologies for climate protection. 
These plans could result in the avoidance of around 3.8 million metric tons of CO2 emissions per year, of which 2.8 million tons would be realized directly at BASF in Ludwigshafen. It shows very clearly how climate protection and competitiveness can be harmonized in the chemical industry. No public subsidies would be needed for the construction of the wind farm.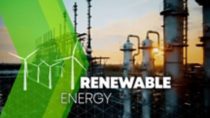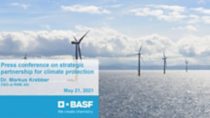 Realizing this plan will require a suitable regulatory framework. Policymakers have said they plan to significantly increase the expansion targets for renewable energies and accelerate capacity additions. For this to succeed, there will need to be a tendering process for offshore project sites where the current plans only foresee use after 2030. The companies urge that these sites should be specifically designated for tenders focused on industrial transformation processes. Another important factor: Green electricity should not be subject to EEG surcharges. In addition, there is currently no regulatory framework for CO2-free hydrogen production.  
In September 2021, BASF has purchased 49.5% of Vattenfall's wind farm Hollandse Kust Zuid (HKZ). According to the agreement BASF and Vattenfall had signed in June 2021, the purchase price amounts to €0.3 billion. Including BASF's contribution to fund the wind farm construction, BASF's total commitment amounts to around €1.6 billion. BASF intends to reduce its investment by selling shares to a financial co-investor; the respective process has been initiated already.
Construction work for the wind farm in the Dutch North Sea started in July 2021. The subsidy-free offshore wind farm is expected to become fully operational in 2023. At that time, it will be the largest offshore wind farm in the world with a total installed capacity of 1.5 gigawatts. The electricity from the wind farm will enable BASF to implement innovative, low-emission technologies at several of its production sites in Europe. Another significant part of the electricity production is reserved for Vattenfall's Dutch customers.
BASF is acquiring the electricity from the wind farm for its ownership share through a long-term power purchase agreement. It will enable BASF to implement innovative, low-emission technologies at several of its production sites in Europe. BASF's Antwerp Verbund site will benefit from the renewable power to a significant extent. The BASF Antwerp site is the largest chemical production site in Belgium and the second largest BASF Group site worldwide.