STEM programs in North America
Working with institutions, communities and volunteers, BASF is helping students imagine the possibilities that chemistry offers for their future and for the world. Through BASF's programs, students conduct experiments, explore institutional settings, and experience workplace environments that provide insight for different ages and interests.
Here's a closer look at the engaging and inspiring programs BASF offers students from preschool through high school.
Kids' Lab encourages children ages 4-12 to gain a better appreciation and interest in the dynamic world of chemistry.  The global program is designed to provide a fun, hands-on learning experience for children, teachers and caregivers.
All participants explore chemistry through safe and engaging experiments such as creating slime or watching super absorbance in action. The interaction and Q&A lead to a memorable fun science experience. Students learn how hands-on chemistry is all around us and how BASF creates chemistry.
As of 2018, 
40,000+ students
participated in Kids' Lab. 
Teens' Lab is a hands-on chemistry program using state-of-the-art equipment in a university lab setting.  The program is geared towards students learning about college and careers in Science, Technology, Engineering and Math. (STEM)
BASF is committed to the future of our young scientists and is planning to expand Teens' Lab at the Louisiana State University in spring of 2019. 
Since its North American launch in 2017,
40 high school students
have particpated. 
TECH Academy
TECH Academy offers a week-long workforce development program geared towards 11th and 12th grade students. The program explores hands-on activitties in industrial arts and technology through experiments, demonstrations, field trips and interactions with industry professionals.
There is currently discussions to expand the program with Chattanooga State University College, TN in 2019. 
"BASF's TECH Academy was a great experience, and it really helped me discover what job I would choose for my future career.  I'm choosing to pursue a technical degree when I graduate from high school. I hope to become a drafter or a welder. I want to be the best at anything I attempt to accomplish."
- Alex Fields, student at East Ascension High School
Since the 2015 launch,
119 students
have partipcated.
Science Academy
BASF and a partnership with Farleigh Dickinson University in Madison, NJ, offers 20 outstanding high school seniors a two-week college experience. During the residency program, students participate in college-level business and chemistry courses, work in teams and interact with university faculty and BASF executives. Upon graduating the course, students will receive three transferable college credits. 
As of fall 2018, two Science Academy alumni joined BASF. 
160 students
particpated in Science Academy from North America since 2011.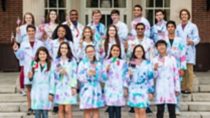 You Be The Chemist
BASF sponsors the Chemical Educational Foundation's (CEF) program, You Be The Chemist. The program is geared towards students from K-8 and helps them envision chemistries role in everyday life. The national challenge inspires on-going study and careers in chemistry. (BASF is a Platinum sponsor)
More than 10,000 students in grades 5-8 particpated 
in CEF's You Be The Chemist challenge
In 2018, BASF expanded partnership to offer BASF sponsored professional development workshops to educators
For more information on BASF STEM programs, contact: