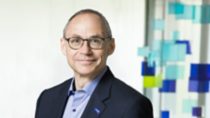 As President Bioscience Research, Peter Eckes leads one of the world's leading bioscience competence centers. In this role, he drives innovative sustainable solutions for agricultural, food and industrial applications for a better life and an improved environment.
Immediately prior to his Bioscience Research responsibility, Peter led as President, BASF Plant Science, which followed his role as Senior Vice President for BASF's global Crop Protection Division's Research and Development.
Peter joined BASF in 1992, after completing a post-graduate fellowship with Harvard University's chemistry department. In his first role with BASF, he worked in Fine Chemicals research in BASF's flagship laboratory in Ludwigshafen. In 1994 he was promoted to Assistant to the Technical Director of BASF.
In 1997, Peter joined BASF Chemical Intermediates Division as Technical Director of Production at BASF's Verbund integrated production site in Geismar, LA. Two years later, he moved to BASF's then North American headquarters in Mount Olive, NJ, to become Head of Marketing for the Intermediates Regional Business Unit.
In 2000, Peter returned to Ludwigshafen to accept the position of Director, New Business Development for the global Chemical Intermediates Division, a position he held until accepting the Senior Vice President role with Crop Protection in 2002.
Peter was born in Königstein, Germany, studied chemistry in Frankfurt, and holds a Doctorate in organic chemistry.