We are strengthening our innovation power by increasing the use of digital technologies and data. Data helps us tap into new fields of innovation. Our R&D activities will progress faster and we can adapt our offerings to better meet specific customer requirements.
We collaborate with innovative technology providers and start-ups in attractive joint projects.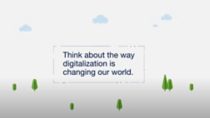 In catalyst research, we implement quick tests based on mathematic models and experiments. We get a much simpler view of complex connections through networked data structures. This enables us to test our hypotheses much earlier and in a much more targeted manner, making better use of innovation opportunities and shortening development time.
For automotive paints, we use real time data from our customers' painting line to optimally adjust the color based on customer needs. This allows us to ensure that the vehicle is painted in exactly the right color.
In enzyme research, we have combined our own and external information into huge data records. On this basis, and using simple tools, we can quickly identify the most promising candidates for further development.