Electric vehicles are capturing hearts all over the planet

Meet some of the world's biggest electric vehicle (EV) fans – from members of the public with inspiring stories to BASF employees who pursue their work around innovative battery materials with passion and optimism.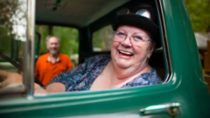 Audrey and Steve and their love of EVs
Hernan's race against climate change
Battery materials innovation – it's a passion project
At BASF, we love electric vehicles – and that's exactly why we're driven to make them even more sustainable.
Find out how we are improving the carbon footprint of EVs by focusing on the all-important battery materials at their heart – from sourcing to production to recycling.